DEPARTMENT OF CHEMISTRY
UG since 1955
PG since 1974
Courses offered: B Sc (Three Years Annual System) and
M Sc in Chemistry (Two years, four Semester System)
PH D
Intake: UG - Maths group 3 Sections and Bio group 3 Sections (264 + 264 = 528 for session 2022-23)
PG - 30 Government seats and 10 SFS seats, total 40 seats
Syllabus: Click Here
Teaching Staff
Sanctioned Post-11 Filled-09 Vacant-02 View Detail
HOD: DR A K SAXENA 9414676550
RESEARCH GUIDES :
DR A K SAXENA
DR SHALINI HEMKAR
Non Teaching Staff:
Lab Asistant - One Lab boy - One
Profile:
Lohia College, Churu was established in 1945 as a degree college. As demand for science stream was felt vigorously in this region of Shekhawati, classes for B Sc course started in 1955. This region of Rajasthan was educationally backward at that time. In due course, no. of students in science subjects increased phenomenally, and to cater demand for PG courses in science subject, particularly in Chemistry, M Sc course started in 1975. Since then PG Department of Chemistry acquired self identity as a progressive department and maintained its aura in spite of adverse conditions of this desert area. Beginning with 10 seats for PG classes, now it has 30 seats in M Sc Previous. 10 more seats were made available under SFS in 2009. This is because of the encouraging results of the Department. Our department has prominent and prestigious identity in this region. Students, passing from our department, now occupy positions in private and public sectors.
It's also a great achievement of our department that most of the members are having Ph D degree. We also organize terminal tests to monitor the development of PG students. Department is well equipped with instruments, chemicals, glassware and other items to meet the student's demand.
Besides all these, process is on to purchase FT-IR, electronic balances and other minor and major equipments.
Department has also established a separate computer lab with ten computers, along with printers, scanners, UPS, computer chairs, computer tables and other accessories. Internet facility is available at all the systems andWi-Fi is also established in the Department. Systems are connected with networking. Students of PG classes and research students have easy access to these facilities.
Department is also enriched with valuable and good reference books. More than 500 books are available in Departmental library and thousands in central library for undergraduate and postgraduate students of Chemistry. Books are issued to them for reference and studies.
Seminars are also being organized in the department to train PG students in delivering lectures and presentations, and refining their skills. All students of M. Sc. (F) are required to present a lecture of at least 30 minutes and submit it in form of a project/file. The topics are of their interest from prescribed syllabus. Internal marks, out of 25, are awarded by the Department in main University examination for seminars. An hour per week is allotted in the time table, also.
Laboratory Facilities: UG - One Lab
PG - Two Labs
RESEARCH LAB - ONE
COMPUTER LAB - ONE
INSTRUMENTATION LAB - ONE
Chemistry Laboratory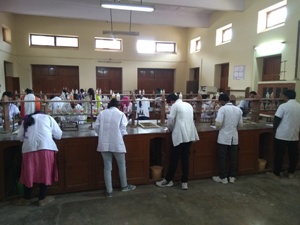 Instrumentation Facility:
FT IR
UV Visible Spectrophotometer
Flame Photometer
Spectrophotometer
Colorimeter
Conductivitymeter
pH meter
BOD incubeter
Water analysis kit
Oven
Hot plate
Microwave oven
Electronic Balances
Other Facilities:
Computers
Printers and multifunctuinal Printers
Photostate machine
Refrigerator
RO water System
Invertor for power backup
UPS
AC
B Sc course outcome:
Undergraduate course in Chemistry include various topics in inorganic, organic and physical chemistry. A graduated student is expected to have knowledge such as:
Understanding of major concepts, theoretical principles and experimental findings in chemistry.
Knowledge of Periodic Table, its properties, construction and other features
Atomic and Molecular structure
Formation of orbitals
Drawing various structures and positioning and movement of electrons
Various chemical reactions and their mechanism
Properties and uses of solids, liquids, gases, solutions, liquid crystals, colloids and other form of material
Thermodynamics and thermochemistry
Recognizing various equipmens and glasswares used in laboratories
Familiar with various practical techniques like distillation, sublimation, purification etc.
ability to work effectively in diverse teams in both classroom and laboratory
able to employ critical thinking and efficient problem solving skills in the four basic areas of chemistry (analytical, inorganic, organic, and physical).
able to conduct experiments, analyze data, and interpret results,
familiar with common names and uses of some chemicals in day to day life
know the proper procedures and regulations for safe handling and use of chemicals and can follow the proper procedures and regulations for safe handling when using chemicals
M Sc Course outcome:
Post graduate student in Chemistry is expected to possess following:
Better understanding of various theoretical and practical aspects related to inorganic, organic, physical and analytical chemistry.
Ability to analyse given data or problem for a solution
Understanding and application of classical mechanics to various systems
Handling of various spectrophotometric and other equipments like flamephotometer, chromatography, conductivity meter, pH meter, colorimeter etc
Instrumental techniques for IR, NMR, TGA, X-ray, Potentiometry, Atomic and molecular spectroscopy, Photoelectron spectroscopy, Electron diffraction, etc and their applications
Able to perform two and three step synthesis of compounds
Separation and identification of inorganic and organic mixtures
Interpretation of various spectral data
Able to explain various complicated reaction mechanisms in inorganic and organic systems
Role of amino acids and other compound in life cycles
Stereochemistry and bonding in inorganic and organic compounds
Chemistry of natural products
Metal to ligand bonding and reaction mechanism in transition metal complexes
Understanding of group theory and symmetry
Green chemistry principles
Understanding principles of Chemical kinetics, thermodynamics and thermochemistry
Thorough knowledge of good reference books and notes making skill development
Developing skills to deliver lecture before audience
ADMISSION CUT OFF M SC PREVIOUS (GOVT. SEAT)
| | | | | | | | |
| --- | --- | --- | --- | --- | --- | --- | --- |
| SESSION | GENERAL | OBC | SC | ST | EWS | TOTAL APPLICANTS | ADMITTED |
| 2022-23 | 84.43 | 82.36 | 78.39 | 81.8 | 83.00 | 289 | 30 |
| 2021-22 | 81.79 | 80.64 | 72.27 | 57.41 | 74.41 | 268 | 30 |
| 2020-21 | 80.33 | 76.58 | 73.5 | 65.94 | 71.17 | 217 | 30 |
| 2019-20 | 77.89 | 75.19 | 72.70 | 53.96 | 64.63 | 193 | 30 |
| 2018-19 | 79.22 | 75.22 | 60.39 | nil | nil | | 30 |
| 2017-18 | 82.67 | 80.56 | 74.22 | 68.3 | nil | | 20 |
| 2016-17 | 80.22 | 79.56 | 73.11 | 65.85 | NA | | 20 |
| 2015-16 | 82.00 | 81.33 | 72.89 | 60.04 | NA | | 20 |
| 2014-15 | 77.70 | 75.67 | 68.63 | 55.22 | NA | | 20 |
| 2013-14 | 75.89 | 73.70 | 66.37 | 61.70 | NA | 91 | 20 |
| 2012-13 | 77.67 | 76.11 | 71.37 | 70.81 | NA | 116 | 20 |
| 2011-12 | 75.48 | 74.11 | 69.11 | NIL | NA | 112 | 20 |
| 2010-11 | 79.15 | 78.22 | 73.11 | 60.48 | NA | 219 | 20 |
| 2009-10 | 79.85 | 77.22 | 69.63 | 71.67 | NA | | 20 |
| 2008-09 | 78.70 | 76.81 | 68.74 | 62.52 | NA | | 20 |
| 2007-08 | 77.17 | 75.22 | 67.72 | 56.00 | NA | | 20 |
2022-23
M Sc P Seminar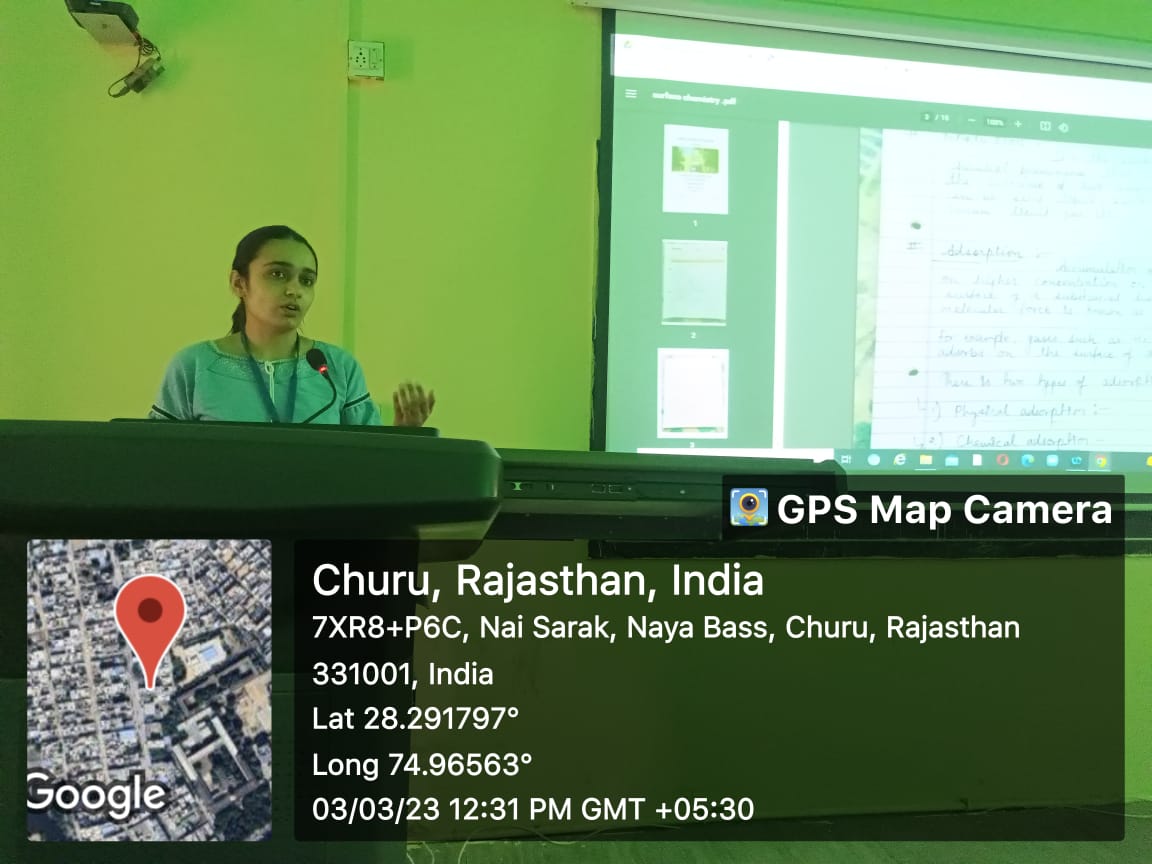 M Sc F Seminar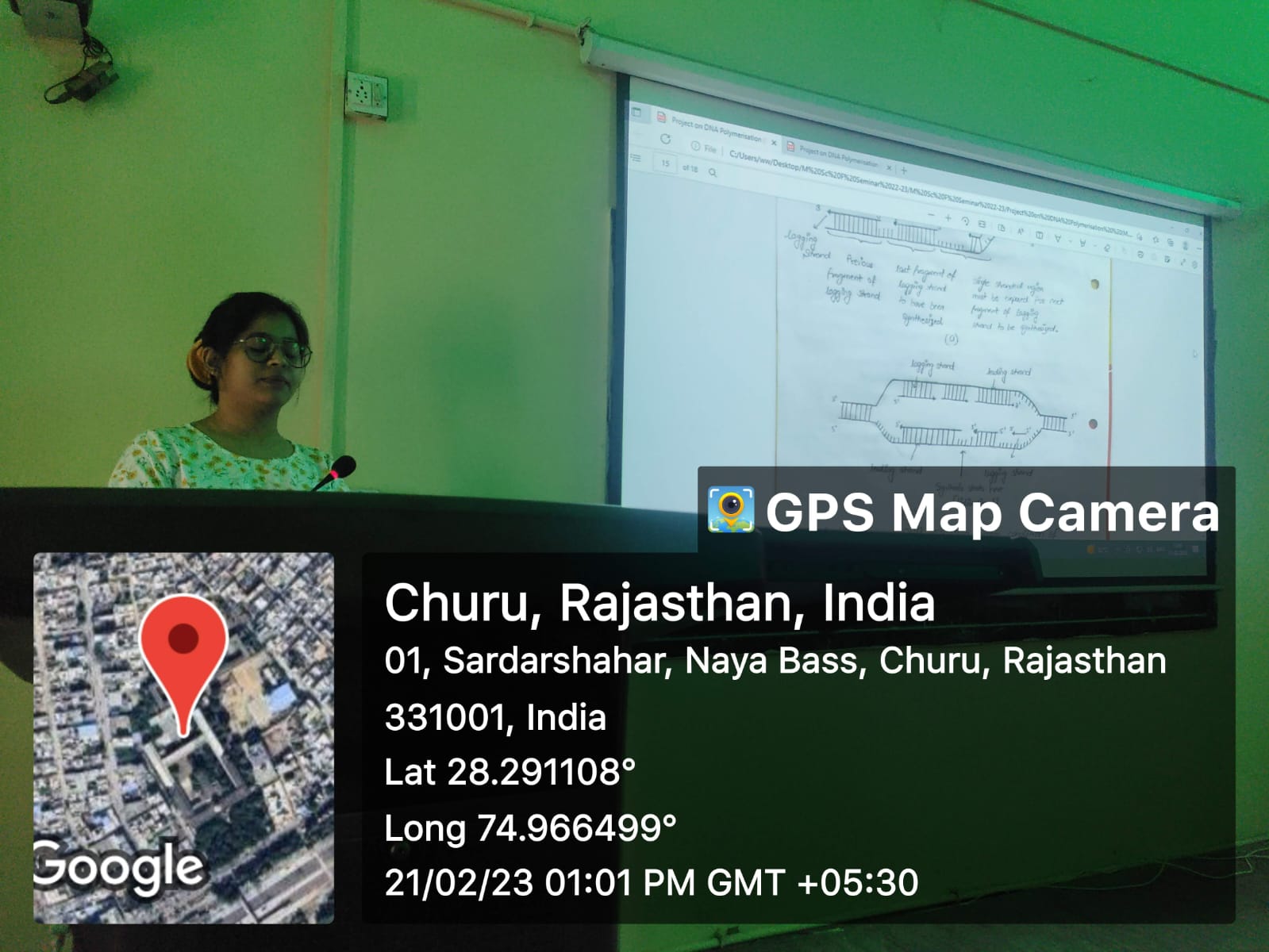 2021-22
Chemistry seminar 2021-22 report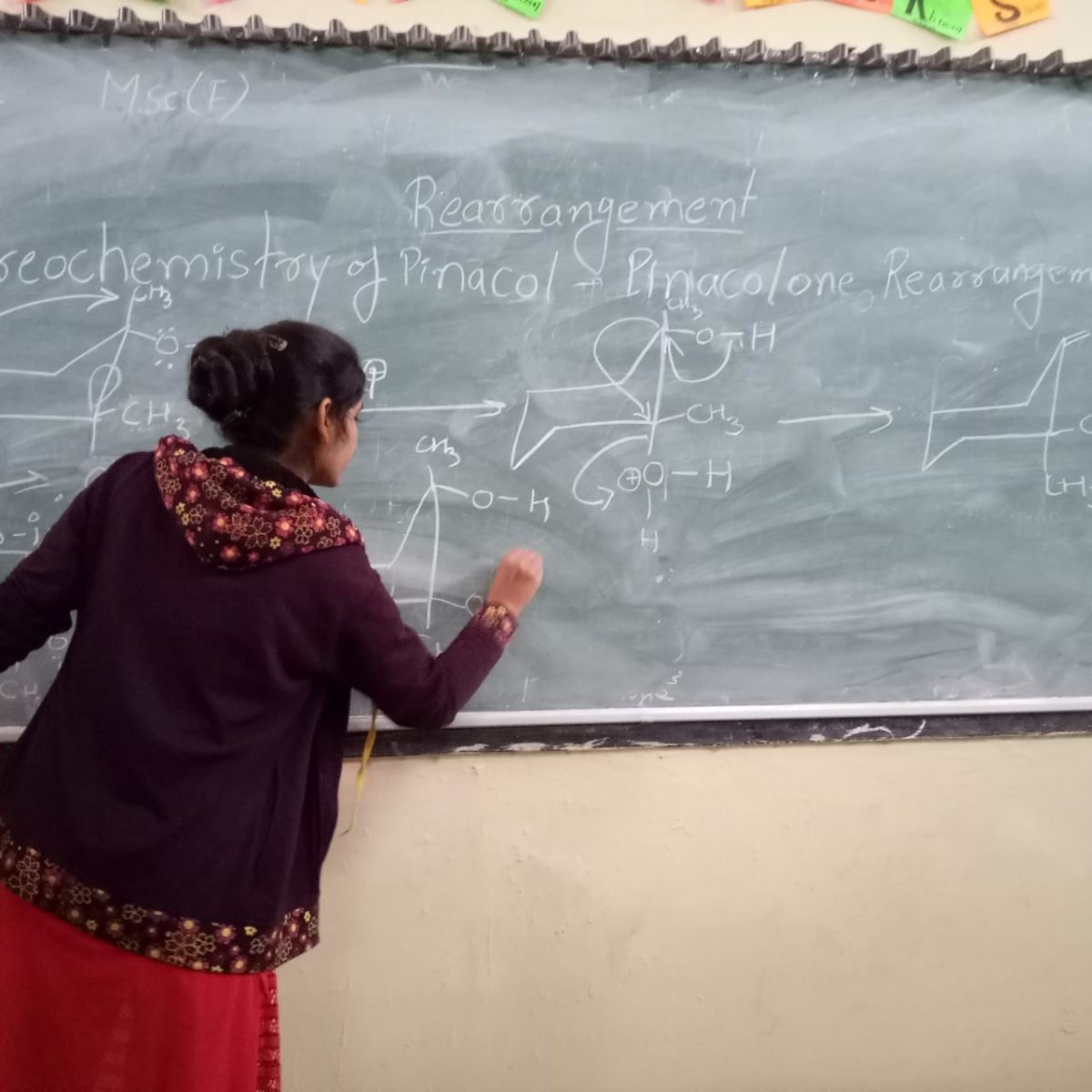 RESEARCH STUDENTS
NAME OF RESEARCH STUDENT

NAME OF GUIDE

TITLE OF THESIS

YEAR OF REGISTRATION

REISTRATION

NUMBER

DINESH KUMAR SONI

DR SHALINI HEMKAR

PENDING

ALLOTED BY UNIVERSITY

PENDING

SANJAY KUMAR

DR V K SWAMI

INHIBITION OF CORROSION OF METALS BY SCHIF BASES IN ACIDIC MEDIUM

2019

1282/5.2.2019

NAVEEN MAHARIA

DR V K SWAMI

CORROSION INHIBITION BY NITROGEN AND SULPHUR CONTAINING COMPOUNDS IN ACIDIC MEDIUM

2019

2140/6.7.2019
THESIS SUBMITTED
NAME OF RESEARCH STUDENT

NAME OF GUIDE

TITLE OF THESIS

YEAROF SUBMISSION

REISTRATION

NUMBER
PH D DEGREE AWARDED
NAME OF RESEARCH STUDENT

NAME OF GUIDE

TITLE OF THESIS

YEAR OF AWARD

REISTRATION

NUMBER

SONU MALSARIA

DR A K SAXENA

STUDIES ON FLUORIDE CONTAMINATION IN GROUD WATER OF MANDAWA AND SURROUNDING AREAS OF JHUNJHUNU DISTRICTS IN RAJASTHAN; PROBLEMS AND REMEDIES

2018

210/29.12.12
PUBLICATIONS: YEARS 2017-21
| | | | | |
| --- | --- | --- | --- | --- |
| S N | NAMEOF FACULTY | FROM | TO | |
| 1 | DR B K AGARWL | 2007 | 30.06.2022 | |
| 2 | DR V K SWAMI | | 17.9.2021 | |
| 3 | DR SURESH KUMAR | | | |
| 4 | DR VIBHA SHRIVASTAVA | | | |
| 5 | DR K K VERMA | | | |
| 6 | DR YOGESH KUMAR | | | |
| 7 | DR J P AGARWAL | | | |
| 8 | DR R K S BHATIA | | | |
| 9 | DR DR G L SHARMA | | | |
| 10 | DR G R SHARMA | | | |
| 11 | DR V K CHADHA | | | |
| 12 | DR UMA PRADHAN | | | |
| | | | | |